About One Minute Later
• Paperback: 512 pages
• Publisher: William Morrow Paperbacks (June 11, 2019)
International bestselling author Susan Lewis' riveting, unforgettable novel of a woman whose life changes in an instant and the handsome young man with whom she shares a secret history—perfect for readers of Diane Chamberlain, Jodi Picoult and Susan Wiggs.
How well do you know the people you love? For one young woman returning to the past, the answer could be heart-shattering…
Vivi Shager is living her dream. Raised with drive and ambition by a resolutely single mother, Vivi has a thriving law career, a gorgeous apartment in London, and a full calendar that keeps her busy at work and at play. Then on the day of her twenty-seventh birthday, an undiagnosed heart condition sends Vivi's prospects for the future into a tailspin. After escaping her roots nearly a decade ago, she's forced to return to her childhood home to be cared for by her devoted and enigmatic mother. Vivi has always known the woman is hiding something and now she's determined to find out what it is. Though her condition makes her fragile and vulnerable and she's afraid of what may happen, her spirit remains strong. Then comes an unexpected ray of light.
Josh Raynor, a local veterinarian who his sisters claim is too handsome for his own good, brings a forbidden love to Vivi's world. Josh and Vivi are soon inseparable, unaware of the past their families share. All Vivi knows is that Josh is wrestling with a demon of his own…
Then quite suddenly the awful truth is staring Vivi in the face and it changes everything.
My thoughts: I really enjoyed this book but it's definitely an emotional read. It's a story of heartbreak, family, secrets, love and loss. The characters are likable and the story is beautifully written. It's certainly thought provoking as well. The POV switches from Vivi in the present to Shelley, in the past. There's a bit of mystery around how the two views are linked but it is eventually revealed. I enjoyed this bit of mystery in such an emotional read. Due to the nature of Vivi's medical diagnosis, there is a lot of medical jargon in the book. This is necessary to understanding what Vivi is going through though. It also brings to the importance of organ donation to the forefront. ⭐️⭐️⭐️⭐️⭐️
Social Media
Please use the hashtag #oneminutelater and tag @tlcbooktours and @williammorrowbooks.

Purchase Links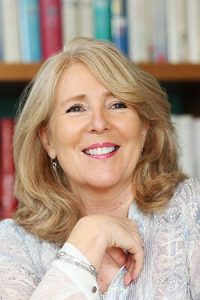 About Susan Lewis
Susan Lewis is the internationally bestselling author of more than forty books across the genres of family drama, thriller, suspense, and crime. She is also the author of Just One More Day and One Day at a Time, the moving memoirs of her childhood in Bristol during the 1960s. Following periods of living in Los Angeles and the South of France, she currently lives in Gloucestershire with her husband, James; stepsons, Michael and Luke; and mischievous dogs, Coco and Lulu.
Find out more at her website, and connect with her on Facebook.